Ring Mesh Curtain Decorating Your Life
Ring mesh curtain is made of small rings which is connected together by a "S" type connect piece. It is a kind of new decorative materials. Our ring mesh curtain is made of carbon steel, stainless steel, brass and other materials. It mainly includes flat ring types mesh curtain, circle types ring curtains and big-small circle ring cross curtain. The ring mesh curtains feature versatility, unique texture, various colors, durability and flexibility. It's widely used for interior isolation, window screen, architectural decoration, ceiling treatments, etc.
Flat ring mesh curtain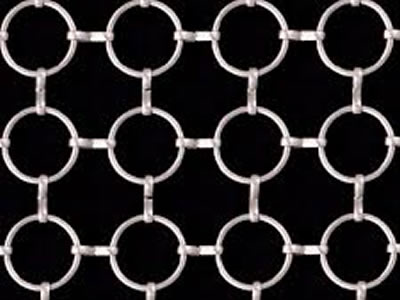 Circle ring mesh curtain
Cross big and small ring mesh curtain
Specification:
Material: carbon steel, low carbon steel, stainless steel, copper, brass, other materials on requirements.
Wire diameter: 0.5 mm - 2.0 mm.
Ring diameter: 3.8 mm - 24 mm.
Width: up to 9.6 m.
Length: up to 15 m.
Surface: color paint, polished/ matt - waxed.
Color: golden, silver, copper.
Other size can be customized by requirements.
Ring mesh curtain properties:
Fireproof: Its meting point is far higher than that of cloth curtain.
Stable: No shrinks or stretches when used.
Mildew proof: It will be fine when used in humidity conditions.
Sun rot proof: No matter how strong sun shine is, metal ring curtain will not be affected.
Light diffusing: Light filtration is controlled by curtain fullness and light conditions.
No maintenance: Stains can be washed off by mild soap water.
Permanent: It will last longer than your life except you don't like to hang it any more.
Application:
Balcony and window treatments.
Ceiling treatments.
Interior partition.
Architectural decoration.
Hotel, restaurant, office, shop and other fashion place.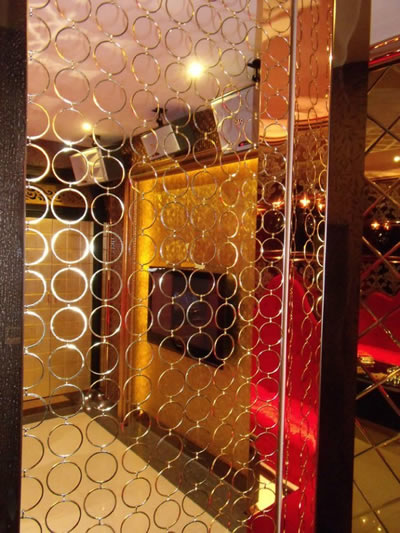 Stainless steel ring mesh curtain used for window screen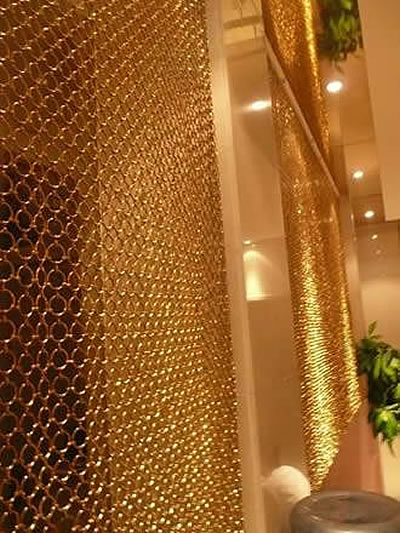 Brass ring mesh curtain used as interior partition
Brass ring mesh curtain used for decorating interior wall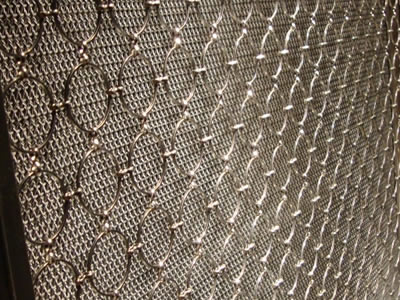 Stainless steel ring mesh curtain used for decorating door
Inquiry for Our Product
When you contact us, please provide your detail requirements. That will help us give you a valid quotation.