Metal Chain Links in Various Fields
Metal chain link is a kind of decorative material that has come into its own in recent years. Its softness and flexibility take into account the glossiness of the metal, and with the track, it can be stretched from side to side like curtains. Metal chain links are often seen in the design of hotel lobbies, airport VIP rooms, concert hall ceilings, etc., and have become the new favorite of modern mainstream decorative arts. Metal chain links can also be widely used in space division, wall decoration, screen, and other fields, which is the ideal material for showroom and hotel decoration.
As an innovative decorative material, metal chain links have a wide range of application prospects in the field of design. They can not only provide a unique visual experience for architecture and interior space, but also realize a variety of functional needs, and also have certain advantages in environmental protection and durability. Whether in commercial spaces or private homes, metal chain links can bring unique charm and comfort to the space.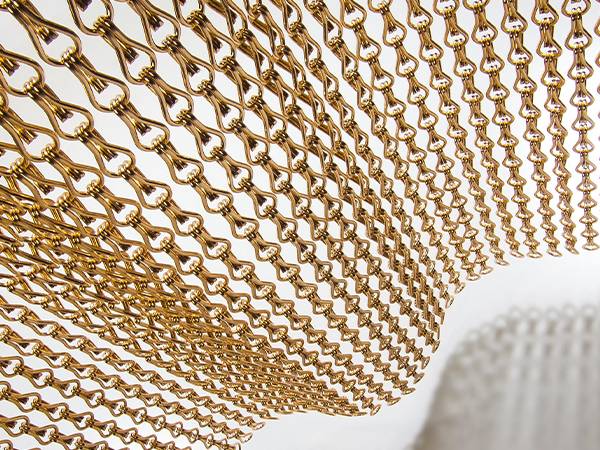 The softness of the metal mesh fabric and the flexibility of the metal chain links make them more designable and maneuverable. After anodized treatment, the metal chain link can be made into red copper, chrome, imitation gold, antique copper, gunmetal, coffee, and other colors, which are colorful, non-fading, and corrosion-resistant. Its color, width, and height can be customized at will, and it can also be made into frosted, laser, and other effects, which increases its artistic and technological significance.
Classical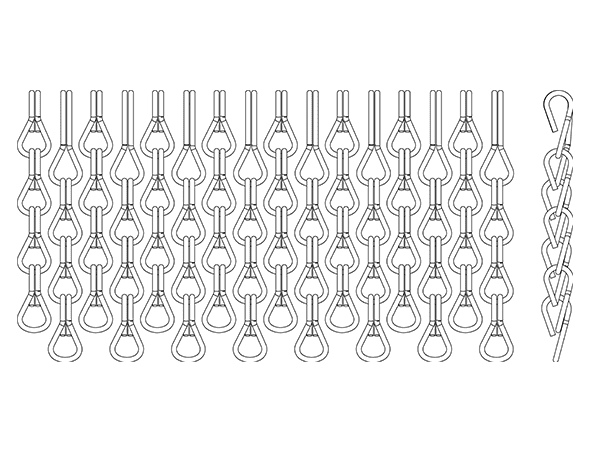 Half drop
Color-1
Color-2
The natural metallic color of the metal chain link can create a very artistic and technological visual effect with the different changes in light and the reflection effect produced by light. This effect can make the whole space more open and make people feel free and comfortable. Through the metal mesh curtain, it can form a whole space that is separated but not continuous, and this effect is different from the transparency of glass, which is more characterized by a hazy perspective. This visual effect can give people a feeling of openness and let people's imagination expand infinitely.
Interior ceiling decoration
Interior ceiling decoration
Interior ceiling decoration
Interior ceiling decoration
Hotel lobby design
Wall decoration
Exhibition booth design
Concert stage background decoration
Interior space divider
Exterior gallery shading design
Inquiry for Our Product
When you contact us, please provide your detail requirements. That will help us give you a valid quotation.