Ring System the Best Solution for Corner and Curved Curtain
Rings make the travel of chainmail extremely easy. This is excellent for the places where need frequent close and open. For curved or angular designs, ring hanging system is strongly recommended. Plus, the gap between the rod and the curtain is ideal for more light going through.
The ring, made of stainless steel, is in harmony with the chainmail. For larger and heavier curtains, more rings are used to support the weight of the curtain.
Chainmail curtain with ring hanging system is ideal for many applications. it can divide a spacious area into several independent parts. It is also used to enclose the ceiling lamps. The round metal curtain will reflects soft and comfortable light.
Product description:
Material: Stainless steel 316L; yellow brass.
Number of rings: 35,000 rings/m2; 14,200 rings/m2; 135,000 rings/m2.
Flammability: no.
Curtain size (H × W): 8' × 4'; 8" × 2'.
Note: The bigger the number of rings per square meter, the more privacy.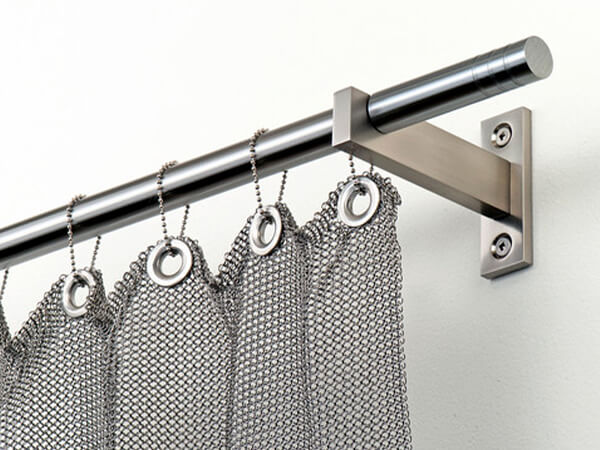 Chainmail curtain with rings is free to come to go along the rod. It is a premium choice for a place where need frequent open and close.
Rings connecting the chainmail curtain to the bar are designed for 120% or more fullness.
Inquiry for Our Product
When you contact us, please provide your detail requirements. That will help us give you a valid quotation.