Anodized Chain Link Curtain Gives A Colorful and Tidy Life
Anodized aluminum chain link curtain can be any color to satisfy your special decorative purposes.
Anodized aluminum chain link curtain is increasingly used in indoor and outdoor applications. There are three main reasons why anodized chain link curtain is so popular. First, anodized aluminum has superior corrosion resistance, wear resistance and paint primers and glues. Second, anodized metal can be any color as your requirements. Third, easy to get through and easy to keep clean.
Thanks to its colorful appearance, many images and designs are possible. We have provided a lot of models like or you can email us for customized service.
Product description:
Material: anodized aluminum.
Shape: hook to hook.
Hook size: 19 mm, 25 mm, 30 mm.
Color: black, sliver, white, dark green, light green, red, grey, blue, salmon, purple, orange, gold and any color you can name.
Curtain size: as required.
Applications:
Room dividers.
Insect screens.
Doorway screen.
Window treatments.
Road design in a chain link window screen makes it interesting. The fly screen ensures that the fresh air and light can go through. However, flies and wasps can't get through.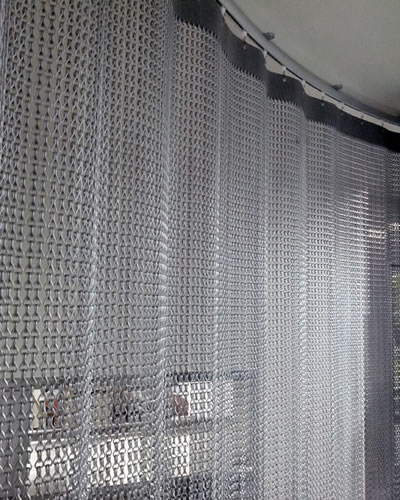 Anodized chain link curtain used as room divider.
Inquiry for Our Product
When you contact us, please provide your detail requirements. That will help us give you a valid quotation.